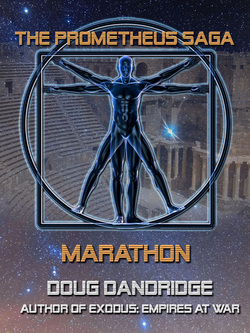 Get Doug Dandridge's
Prometheus Saga
story, '
Marathon
', for
free today
at the Kindle store!
Q
: What inspired you to launch / join the Alvarium Experiment?
DD
: I was asked to join by one of the other authors, whom I had met at a writer's conference in my home town. I'm always looking for new ways to promote, and had just recently put a short story in an anthology by Kevin J Anderson, so, as this seemed interesting, I jumped at the invitation. I still don't know what the result will be of participation, part of what makes it an experiment, but it was a lot of fun writing the story.
Q
: What are some of the benefits and challenges of writing "into" an existing framework for Prometheus as a character? How did that shape your creative process for your story story. Is it different from your usual writing process?
DD
: Well, to start off, I had to discard some of the ideas I had for the character, as they didn't fit in with the ground rules. Things like making Prometheus a veritable demigod, giving him advanced technology, etc. I also had to write in a real historical world, something I want to do in the future with alternate history, but really didn't have a lot of experience with on entry into this project. I had to work with real settings, in this case, the Plains of Marathon in Greece, and people who really existed. Of course, what we know about the people is cursory at most, so they could be fleshed out as I thought best. I'm also more of a novelist, and am used to writing sweeping tales that lend themselves to long descriptions. With the ten thousand word limit to the stories, I was forced to cut back on the description and just focus on the action. As I'm planning on doing more short works in the future, this was useful to my development as a writer.
Q
: Tell me more about your other work(s).
DD
: There are really a lot of them, so I'll have to be brief. I have quite a few standalone works that came from the years I was submitting to publishers. Most came back with good rejections, so I thought I should self-publish them. These books include The Hunger (an urban fantasy), The Scorpion (a scifi technothriller), Doppelganger (high fantasy), The Deep Dark Well (far future scifi) among others. I also have some standalones I wrote for self-publication, We Are Death, Come For You (military scifi), Aura (high fantasy), Afterlife (near future scifi). I eventually wrote two more novels as sequels to The Deep Dark Well, To Well and Back and Deeper and Darker, and may do a second trilogy added on to that Universe. In 2010 I wrote two very long novels, Exodus and Refuge. I thought that 200,000+ word books might be a little long for self-pub, so I turned both of them into two books, and released both in the Fall of 2012.
I really thought that Refuge, a genre crossing technothriller/fantasy, would be the breakout series. It was the more imaginative of the two series, and had characters from our time and space, which I thought would be more interesting to readers. While the first two books did fairly well, 9,000 sales across two books, it never took off like I hoped. There are now four books in the series, which I continue to write for the fans who love the series. Exodus was retitled Exodus: Empires at War, because I did not want people buying the book, thinking it had a Biblical theme, and hating it. There are now seven books in the main series, Empires at War, with over 80,000 sales. Books 3 through 7 all hit number one in multiple categories on Amazon.UK, and went up to the top ten on Amazon.US, book 3 rising to number 3. Exodus: Tales of the Empire, a line that journeys off the main storyline, got to number two in Space Exploration at Amazon.UK, and number nine in the same category at Amazon.US. This series is what allowed me to become a full time writer, and will be the focus of my time in the foreseeable future.
I recently placed a 15,000 word novelette set in the Exodus Universe in Kevin J Anderson's Five By Five military science fiction anthology. I consider that another breakthrough, into the world of traditional publishing through Kevin's Wordfire Press. Hopefully that will lead to more anthologies. I have also written six short stories for Dean Wesley Smith and Kristin Cathryn Rusch's Writers of the Coast Anthology Workshop, coming in March. There is a chance that any or all of those stories will be published
Q
: Tell me more about your short story in the Prometheus Saga. Why did you pick that episode in history?
DD
: I am a military fiction writer, both science fiction and fantasy, so a martial themed story was a natural. I was trying to think of a good story from antiquity, since most of the other tales in the saga seemed to be in more modern times. Leonidas and the 300 has been done to death, and the Roman conquests did not have the right feel to them. Marathon, though, was an outnumbered army of Athenians standing against the Persian army for their democracy. Not really a democracy as we think of one today, but still quite a departure from the kingdoms and empires of the day. I thought Socrates had fought in the battle, but found in my research that he hadn't been born yet, which emphasizes the importance of good research. But, even better, I found out that the playwright Aeschylus, the father of modern theater, was at the battle, and he wrote a famous play called Prometheus Unbound. The connection was perfect.
Q
: What are your writing plans for 2015? What does the new year hold in store for you?
DD
: I am currently working on the second book of the Tales of the Empire imprint, this time a novel, which should be out at the beginning of March. I have the basic plots for the next three Empires at War books, and plan to get them out early summer, late summer and mid fall. And I am working on a Renaissance era fantasy for submission to publishers, to be followed up by a near future science fiction novel set on Mars, also to be sent out on the traditional path. If both or either don't land, I still win, because there's always self-publishing. The dream is becoming a true hybrid author, making most of my income on my indie efforts, while both bringing my reader base to traditionally published works, and expanding my reader base for my indie series, especially Exodus.
To read more about Doug Dandridge, visit him at
dougdandridge.com
.For links to all the
Prometheus Saga
stories, go here.