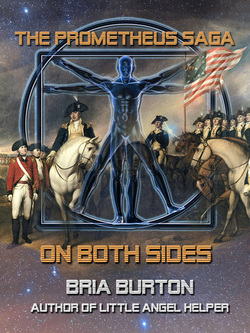 Today, I have another author interview from
The Alvarium Experiment's Prometheus Saga
. Bria Burton is the author of "
On Both Sides
", which is available in the Kindle store for
free download
through tomorrow.
I had the honor of second edit on this story and, as always, it was privilege to be allowed into a writer's process at an early stage of writing. It's so interesting to watch a story progress into a finished product. Bria is open-minded and gracious as a writer and thorough and patient as an editor, as I found out when she turned around and edited my Prometheus Saga novelette, "
Manteo
", for me.
Q
: Tell us, what inspired you to launch / join the Alvarium Experiment?
BB
: At the FWA Conference in 2014, Charles and Ken approached me about the idea, and I absolutely loved it. The author collaboration, the story premise, and the new way of reaching readership really drew me in. Not to mention I love science fiction.
Q
: What are some of the benefits and challenges of writing "into" an existing framework for Prometheus as a character? How did that shape your creative process for your story? Is it different from your usual writing process?
BB
: For me, this story began with Point of View. Typically, I begin with a plot idea or a character, but I wanted to know where I would be coming from in the framework given. According to the guidelines, no one was to write in Prometheus's first person perspective, but limited third POV was permitted. The reason: there would be too many discrepancies in the stories regarding the character. I wanted to focus on an outside character observing Prometheus, and so my story is told from that outsider's perspective (two, in fact). The difficulty was making sure I didn't step out of the parameters. The benefit was that the parameters allowed for a great deal of creativity and freedom.
Q
: Tell me more about your other work.
BB
: I have several speculative fiction pieces published. Most recently, "In Line at the DMYV," science fiction, appeared in the
Welcome to the Future
anthology. "The Darkness Below," science fiction, appeared in
The Colored Lens
Autumn 2014 issue. Also in 2014, "Switching," fantasy, aired on the
Dunesteef Audio Fiction Magazine
and "Ligeia," science fiction, aired on the
Journey Into…
podcast. Both of these podcasts use voice actors, sound effects and music, and the episodes are free, so that was really fun to hear my stories in that medium. "The Mute Girl," fantasy, appeared in
eFantasy
(now
New Realm
) in 2013. My epic fantasy manuscript,
Livinity
, won a First Place RPLA in 2011.
Q
: Tell me more about your short story in
The Prometheus Saga
. Why did you pick that episode in history?
BB
: Here's the story description: When a mysterious woman vanishes during the American Revolution, young Robby Freeman searches for answers from a cryptic sharpshooter who deserted Washington's Continental Army.
I chose the American Revolution because American History has always been one of my favorite subjects. The opportunity to select any period in history was daunting at first—so many choices!—but as soon as it occurred to me, I knew I wanted to write about that time period.
Q
: What are your writing plans for 2015? What does the new year hold in store for you?
BB
: I'm waiting on a beta reader to give me feedback for Book One of
Livinity
. Once I receive notes and do some more editing, I'll be following the traditional publishing route of submissions to agents/publishers. That can be a long process of waiting and resubmitting. I'd like to get several more short stories written this year and continue submitting to literary magazines. Like I do every year, I plan to attend the Florida Writers Conference in October.
ABOUT THE AUTHOR
Bria Burton's short stories have appeared in anthologies such as Welcome to the Future and speculative fiction magazines such as
The Colored Lens
. Her novella, "Little Angel Helper", was written for her sisters, one of whom has special needs like a character in the story. She also has a collection of family-friendly pet stories called
Lance & Ringo Tails
. Her epic fantasy manuscript,
Livinity
, won First Place in the RPLA Unpublished Fantasy Novel category in 2011.
At St. Pete Running Company, she works as a blogger and customer service manager. Find out more about her upcoming and past publications by visiting her at
briaburton.com
ABOUT THE PROMETHEUS SAGA

The Prometheus Saga
is the premier project of the Alvarium Experiment, a consortium of accomplished and award-winning authors. Links to all the Prometheus Saga stories are
HERE
.