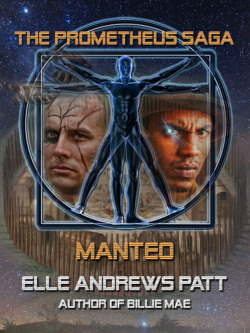 In October, I was asked to join the Alvarium Experiment. The Alvarium, Latin for "hive", became a group of thirteen writers with the common goal to experiment with fiction projects that would improve our craft, provide inspiration, and support our publishing efforts as individuals. Charles A. Cornell and Ken Pelham conceived the Alvarium Experiment, invited the writers to join, and wrote the premise and guidelines for our first project, the Prometheus Saga.
The Prometheus Saga consists of thirteen science fiction stories ranging from 5,000-12,000 words. Each story includes 'Prometheus', an alien probe that is, for all intents and purposes, completely human, except for its quantum computer brain which holds all its memories and a complete database of knowledge. Its only mission is to observe human kind, but as its AI develops, with its human body subject to all its own human biochemistry, Prometheus also sometimes acts. The only limit on time period is 'within current human history' so we ended up with a very wide range of settings from 40,000 years ago to modern day.
For the Prometheus saga, I wrote a novelette, '
Manteo
', which you can read about
here
.
I'd like to welcome M.J. Carlson to my blog today! I served as an early editor for his Prometheus Saga fic, '
Ever After
' and M.J. and I have been developing our writing skills together for about eight years now.
Q
: What inspired you to join the Alvarium Experiment?
M.J
: When my friend, Ken Pelham contacted me prior to the 2014 FWA Conference and asked if I was interested in joining a dozen other writers in "something never done before," I was intrigued. Since we hear so much about publishing being in a flux right now, I decided to meet with Ken and Charles A. Cornell, the co-conspirators, as it were, behind the Alvarium Experiment. In preparation for that initial meeting, Ken sent me two papers describing the concept. One was the guidelines for the character and story premise behind the saga, the other was the publishing paradigm outline – the Experiment itself. The more I read both, the more interested I became, especially since I not only write science fiction, but have also written a couple of time travel stories that explore our history. Meeting with Ken and Charles and some of the other talented authors they had approached I signed on.
Q
: What are some of the benefits and challenges of writing "into" an existing framework for Prometheus as a character? How did that shape your creative process for your story story. Is it different from your usual writing process?
M.J.
: Writing into a framework wasn't a challenge for me. My writing style involves a lot of preliminary planning, often a twenty or thirty page outline, before I ever start a novel. In this case, having a framework in place provided structure similar to how I usually begin anyway. The challenge was how to best utilize the Prometheus character in my story. I decided early on to separate the protagonist and main characters, so I could use Prometheus to move the story, but allowing the reader to enter the story through other characters. This is a well-known technique in fiction which has worked well for authors from Harper Lee to Arthur Conan Doyle. It allows the reader an emotional entry point into the story while keeping the protagonist (Prometheus) shrouded in mystery. This also allowed me to tell the story without giving any of Prometheus' internal mental workings away that might conflict with the other stories.
Q
: Tell me more about your other works.
M.J.
: I use main characters who are generally average people in extraordinary circumstances. Often, these characters are academically oriented, but they always lack the borderline superhuman traits so common in much of today's fiction and they are never "the chosen one," except in that they are the ones who will not give up. My first novel was a story about a biochemist who accidentally discovers a compound that gives him limited, temporary, extrasensory perception, allowing him to establish contact with an individual from the future, sent back to help him develop his compound. My second novel (also still unpublished) is about an alien entomologist whose space ship is shot down, dropping him into the life of a young Air Force widow, told from the point of view of the alien.
Changed
, my first published novel, tells the story of a twenty-six year old janitor in 2132, the unsuspecting subject of an experiment, who discovers computer processors have been wired into his nervous system without his knowledge – using technology that isn't supposed to exist.
Natural Selection
, to be released this year, explores what happens when a molecular biologist who runs a small DNA testing laboratory in 2047 is given a DNA sample for testing. He discovers the gene for psychopathy in the sample, which happens to belong to a presidential candidate running on a mandatory genetic testing platform.
Q
: Tell me more about your short story in the Prometheus Saga. Why did you pick that episode in history?
M.J.
: As it turned out, I had written most of the story a few years ago with no plan for what to do with it, and in the process, did quite a bit of research into the story's history. I rewrote it in several versions, including one setting the story on Mars 200,000 years ago with Earth as the main character's destination, but nothing felt "right" until I met with Ken and Charles. The story jelled for me at that point, and it was a simple matter to move the Prometheus character into place, telling essentially the same tale to different authors over several centuries in various parts of the world and monitoring how each local culture changes the story in its retelling, revealing that culture's true heart and soul.
I chose the Grimm Brothers because next to the Disney version it's the one we're most familiar with. Many people are also familiar with how very different the two versions are, further making the premise of the story (that the tale originates with one teller and is changed by each culture where it's introduced) more believable. My other bookend, Giambattista Basile, is the first known Western author to write down and publish
Cinderella
(although it was actually published after his death by his sister). The story also references much earlier versions of
Cinderella
that the careful reader should easily pick out. As a caution, though, I would remind readers that while the main characters (Giambattista Basile and Jacob & Wilhelm Grimm) actually existed, this is not a historical essay on the differences in their versions of
Cinderella,
but a work of historical fiction to be enjoyed for its own sake.
Q
: What are your writing plans for 2015? What does the new year hold in store for you?
M.J.
: I plan to use the attention gained by
The Prometheus Saga
and
Ever After
to help market my current novel,
Changed
. I'm in the final stages of preparing my next novel,
Natural Selection
. Once it's published, I have the first three books in a series I've been working on for a couple of years I'd like to bring to market this year. I also continue to submit short stories to various venues, and there are one or two contests I've had my eye on.
Q
: Is there any special significance to the title '
Ever Afte
r'?
M.J.
: Actually, yes. All my stories have titles with at least two meanings which apply to the story. In this instance, "Ever After" is the obvious nod to the traditional fairy tale ending, but it also literally means "until they died," which relates to the same story being told, century after century, by a nearly immortal alien intelligence to the authors who, each in turn, grow old and die. On a deeper level, it refers to the timeless nature of myth. Or, it just pokes fun at fairy tales. I did grow up watching "Fractured Fairy Tales" on the Rocky and Bullwinkle Show.
About M. J. Carlson
:
One of M.J.'s early short stories and an early, unpublished novel were finalists in their respective categories in the Florida Writers Association RPLA contest, and two other short stories have received honorable mentions in the international Writers of the Future contest for science fiction and fantasy.
M.J. is a frequent speaker at writer's conferences and local writing groups on the subjects of writing believable injuries in fiction from the character's point of view, choosing the best software for various aspects of writing, and how to successfully separate the protagonist and the main character, with references from famous historical stories.
You can find out more about M.J. Carlson at his
website
.
'
Ever After
' and my own Prometheus Saga story,
'Manteo
', can be purchased for .99 cents at Amazon, just click the story titles or covers. Check out all the
Prometheus Saga
stories and the authors at the
Alvarium Experiment
.
Ken Pelham
's '
First World War
' can still be downloaded for free through Friday Feb. 13, 2015