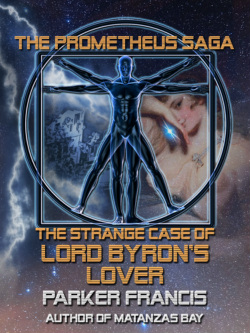 Today, I have a Prometheus Saga interview with Parker Francis. Through tomorrow, you can get his fantastic
'The Strange Case of Lord Byron's Lover
' for
FREE
in the Kindle store.
Q:
What inspired you to launch / join the Alvarium Experiment?
PF:
Ken Pelham contacted me prior to the 2014 FWA Conference to ask if I'd be interested in joining other writers in a what he said was "a cool idea" called The Alvarium Experiment. I'm always open to cool ideas and asked for more details. Ken sent me two working papers I call the
Prometheus Bible
, an incredibly well thought-out concept with a spec sheet and working arrangement for the consortium of writers. Ken and Charles Cornell had obviously given this a lot of thought, and I was both impressed and intrigued. Though I didn't write SF, I spent much of my wasted youth reading the masters of SF and fantasy. And when Ken said they were looking for writers of all genres, I jumped aboard the Alvarium bandwagon.
Q:
What are some of the benefits and challenges of writing "into" an existing framework for Prometheus as a character? How did that shape your creative process for your story? Is it different from your usual writing process?
PF:
The benefits far outweighed the challenges since I became part of a beehive of awesomely talented people and the ideas flowed continuously. Having a framework in place provided some structure, the challenge was how to fit my story—whatever that turned out to be—into the framework, and best utilize the Prometheus character to shed light on my story. I decided early on not to concentrate wholly on Prometheus, or any of the superhuman abilities of the alien probe, but to create a character shaded in mystery, acting in a way to cause my protagonist to question the nature of what he/she observed, and also cause some change in that character's life. Not surprisingly for a writer who has long-established patterns for writing (go ahead and say it, I'm a creature of habit and set in my ways) but the process turned out to be about the same as how I approach my other writing projects. I came up with a "What if" idea, noodled on it, researched it, sketched out some plot points, and created a rough outline before jumping on my computer—which is done with extreme caution since Duke, my golden tabby and sometime editor, likes to cuddle on the keyboard.
Q:
Tell me more about your other work.
PF:
Although I've always considered myself a writer, I didn't complete my first book until after retirement. And since my wife and I had a house full of cats at the time (that's another story), it seemed only right that my story should be about cats. That's how the Windrusher trilogy was born. Windrusher, the feline protagonist, starred in each of the three adventure/fantasy novels. There were mystical threads running through the stories, and I found a good audience among younger readers as well as adults. Each of the three books,
Windrusher, Windrusher and the Cave of Tho-
hoth, and
Windrusher and the Trail of
Fire, were traditionally published and won at least one award. While writing the second in the series, I had an idea of how to use one of the characters in a separate story. The character was Quint Mitchell, a private detective who played a major role in that book. Since I was reading a lot of mystery/suspense and thriller novels, I decided I'd give it a try. Writing as Parker Francis, I wrote my first Quint Mitchell Mystery,
Matanzas Bay
. As an unpublished manuscript, the story won the 2007 Josiah W. Bancroft Award, and was named the Book of the Year in the 2009 Royal Palm Literary Awards competition in the pre-published category. I've since written the second in the series,
Bring Down the Furies
, which won the Gold Medal in the Florida Authors & Publishers Association's President's Award Competition. As Parker Francis, I've also published the novella,
Blue Crabs at Midnight
featuring Quint as a young teen, and the short story collection,
Ghostly Whispers, Secret Voices
. And I digitally published two writing booklets based on some of the craft workshops I've done.
Q:
Tell me more about your short story in the Prometheus Saga. Why did you pick that episode in history?
PF:
For some reason, one of my first thoughts about the Prometheus character was the literary monster Frankenstein. I recalled the title of Mary Shelley's original story was
Frankenstein, or the Modern Prometheus
. I wasn't sure how this would work in a short story, and I certainly didn't want to make the alien humanoid into a Frankenstein monster, but the Frankenstein idea stuck with me, and I began researching Mary Shelley and how she came to write the book. I found a wealth of information online, and couldn't have asked for a better starting point. The historical truth was as dramatic as any fiction I could make up since Mary and her soon-to-be husband, poet Percy Bysshe Shelley, spent a summer holiday with none other than Lord Byron in his rented mansion on Lake Geneva. During their stay, they read ghost stories and decided to write their own. Mary wrote in her journal that she had a vivid dream the night before they were to tell their stories (it was reported the creative process might have been helped by the copious amounts of wine they drank, as well as the use of laudanum), and in the dream she saw her Frankenstein monster being created. This was wonderful stuff, and I turned our Prometheus character into an attractive Greek servant girl who also doubled as Lord Byron's lover.
Here's the story description for "The Strange Case of Lord Byron's Lover:" Writing in her journal, Mary Shelley recounts a series of perplexing events during her visit with Lord Byron—a visit that resulted in the creation of her famous Frankenstein novel, but also uncovered a remarkable mystery.
Q:
What are your writing plans for 2015? What does the new year hold in store for you?
PF:
I'm in the final stages of preparing
Hurricane Island,
the third Quint Mitchell Mystery, for publication. Once it's published I'll do a lot of marketing for the book. I also had
Matanzas Bay
made into an audio book that will be sold through Audible.com. More marketing. If it sells, I'll convert the other two books in the series. I'm also doing some minor tweaking of the second and third Windrusher books. My publisher and I parted ways after he changed his business model to nonfiction environmental books, and I got my rights back. I've already revised the first book and republished it under my own imprint, Windrusher Hall Press, and will do the same with the other two. I've also been plotting a collection of themed short stories I'd like to work on, as well as a trilogy of short novels set in the near future.
For more from
Parker Francis
, check out his website at
parkerfrancis.com
.
For more info on the
Alvarium Experiment
and links to all the
Prometheus Saga stories
, go
HERE
.