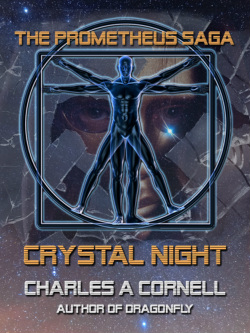 Get
Charles A Cornell
's "
Crystal Night
" free today from Kindle! Charles Cornell and Ken Pelham founded the
Alvarium Experiment
, a group of like-minded authors who are working together to discover new ways of presenting and marketing new fiction.
The Prometheus Saga
is their first project and consists of science-fiction stories which all involve in some way 'Prometheus', the same alien character threaded into each unique story. In this interview, Charles discusses his work and his process. I'm always curious to know how other writers go about laying out their framework for a story :-)
Q:
How does your work differ from others in its genre?
CAC:
In my thriller, Tiger Paw, I definitely channeled my 'inner Edgar Allan Poe'. Woven into the intrigue and suspense are elements of the macabre and the occult. This portrayal of the dark side of human nature can also be found in my sci-fi/fantasy novel, DragonFly in the character of Nazi wizard, Reichsfuhrer Morax. My novels unabashedly contain a strong 'good vs evil' theme as the main protagonists are in an 'against all odds' journey to triumph over the worst mankind has to offer. I like to think out of the box regarding the plot, embed a twist or two, and definitely want my work to be unique. Why write what others have already written?
Q:
Why do you write what you write?
CAC:
Why? Simply, to make people think. My novels have a lot of historical and social messages embedded in them. I view my work as having three layers, like peeling back an onion. The outer layer is entertainment. My thrillers thrill, and my sci-fi creates wonder as it should. The next layer is information. My references to history or descriptions of locations are intended to make the reader curious to find out more. Underlying all of that is meaning. In Tiger Paw, set on Wall Street, how much money & power is enough, and how much is too much? In DragonFly, can a woman succeed in a man's World War? The answer is yes, spectacularly!
Q:
How does your writing process work?
CAC:
I'm an outliner or plotter. I need to know my story's ending ahead of time. This is especially important when writing a mystery or thriller in order to seed clues into the narrative. I outline using old fashioned paper index cards laid on a big table so I can glance at the whole structure at once. The process is usually accompanied by a glass of wine. Once the forty chapters or so are roughed with a sentence or two on each card that captures the scene, I transfer them to my iPad into a writing app called Storyist. There I can change their order and rearrange to my heart's content. I write the draft on the iPad in Storyist and export it to Word on my desktop when I think I've done enough self-editing. I send that out to professional editors, do their recommended revisions when it comes back, and then self-publish.
Q:
Tell me more about your short story in the Prometheus Saga. Why did you pick that episode in history?
CAC:
I have an affinity for World War Two history. Both my parents served in the British Royal Air Force during the war. My mother was a 'grease monkey', a mechanic on Spitfires and Mustangs. My father retired in the fifties with the rank of Squadron Leader. Both my parents have passed away and the survivors, both military and civilian, from those war years are passing at an incredible rate. At some point soon we may hear that the last WW2 veteran is gone and we will only have books and videos to understand those turbulent times.
One of the things I'm trying to do is find ways to connect the lessons of WW2 to a younger generation. I thought, what about science fiction? So I wrote DragonFly, a sci-fi fantasy about a female British pilot fighting Nazi wizards and monsters in an experimental fighter plane, the DragonFly, which is fueled by water. When we came up with the premise for The Prometheus Saga, my mind immediately gravitated to WW2 and in particular the Holocaust. What would an alien have thought about how people treated each other inside the Third Reich?
Q:
What are your writing plans for 2015? What does the new year hold in store for you?
CAC:
Last year I launched DragonFly, a collision of science fiction & fantasy in the dieselpunk genre. I'm working on its sequel, 'Spies in Manhattan' as well as some short companion fiction to the DragonFly world. I have a crazy number of projects in the concept and outlining stage. There will be a third DragonFly novel called 'The Machine That Changed The World'.
I'm really excited about starting a five-novel futuristic science fiction series I've planned and have begun outlining. That may be the next world I build after the DragonFly books. But I promised my readers I would write the second and third book in my FBI thriller series, Tiger Paw. Did I also mention steampunk & dystopian? Yes, I have novel concepts underway in both of those genres too. I reckon I have at least ten years of writing ahead of me to completely write everything I've imagined , and that doesn't count anything else I might dream up in the future.
To learn more about Charles A. Cornell, visit him at
charlesacornell.com
.
For more information and links to all the other
Prometheus Saga fics
, go
here
.