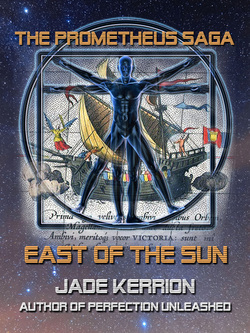 My featured author today is
Jade Kerrio
n, author of
"East of the Sun"
, a short story in The Prometheus Saga. "East of the Sun" is available for
FREE
on Kindle
TODAY
!
Q:
Welcome, Jade. What inspired you to launch / join The Alvarium Experiment?
JK:
Late last year, Charles A. Cornell reached out to me to ask if I'd be interested in joining a unique collaboration of authors writing short stories around a central premise. I'd engaged in many author collaborations previously, especially on anthologies, but Charles' project was unique and piqued my interest. How were a dozen or more creative people (likely with more than one voice in their heads) ever going to come to agreement long enough to make a project like The Alvarium Experiment happen? With an equal mix of eager enthusiasm and morbid curiosity, I signed up!
Q:
What are some of the benefits and challenges of writing "into" an existing framework for Prometheus as a character? How did that shape your creative process for your story? Is it different from your usual writing process?
JK:
I didn't think the existing framework for Prometheus hindered my creative process. All writing, in fact, is constrained by the "rules of the world," be it physics in ours, or magic in Middle Earth. As long as the rules are clearly articulated and understood, there's frequently lots of room for play within the rules (and of course writers are brilliant at finding loopholes and pushing the boundaries.) I started with the question of "What defining event in human history do people know very little about and what role could a being like Prometheus possibly play in shaping it?" and found my inspiration very quickly. This short story gave me an opportunity to dabble with a first person POV, which is not my POV of choice, so I truly appreciated the learning experience.
Q:
Tell me more about your other works.
JK:
This is the kind of question that just gets more complicated each year as my bibliography grows. In general, I write science fiction, fantasy, and contemporary romance. My debut novel,
Perfection Unleashed
, won six awards, including the gold medal in science fiction for Readers Favorites, and kicked off the
Double Helix
series. The series is now complete at four books, but it has spawned several spin-offs, including a YA novel and several thrillers.
Earth-Sim
, one of my favorite novels, is a standalone book that asks, "What if Earth were a simulation, and the two people managing the planet were college kids with major communication issues and management style conflicts?" It's a hilariously fun romp through human history, incorporating geology, geography, history, mythology, and popular culture. Finally, I launched a contemporary romance novella series last year called
Life Shocks Romances
, and it's gaining traction quickly. You can find my novels
HERE
.
Q:
Tell me more about your short story in The Prometheus Saga. Why did you pick that episode in history?
JK:
Western history books (not surprisingly) lack both focus and detail on topics relating to the richness and depth of the history and impact of eastern cultures, like China. I wanted to bring one such example of China's contribution to light, and in this case, it was the remarkable journeys of admiral Zheng He's armada which was believed to have reached North America before Christopher Columbus. Did the Chinese armada in fact reach North America, and if so, what was the impact on Ferdinand Magellan, who is believed to have possessed the first world map and successfully circumnavigated the globe? "East of the Sun" explores this remarkable "what if" possibility.
Q:
What are your writing plans for 2015? What does the new year hold in store for you?
JK:
I'll be releasing four contemporary romance novellas this year as well as taking part in six romance anthologies, ranging from contemporary, to paranormal, to romantic thrillers. I'll be releasing
Carnival Tricks
, a spin-off thriller in the world of the
Double Helix
, focusing on a genetically modified virus run amok. In addition, I'll be releasing two novels in my
Double Helix Women
series, shining the spotlight on the unpredictable assassin, Zara Itani, who can wreak more havoc with love than most people can with hate, and the brilliant clone, Xin, who is behind just about every major world event (read: disaster), either precipitating it or trying to stop it for reasons that are entirely her own.
JADE KERRION
is the author of the
Double Helix
series, which has won eight science fiction awards, including the Gold Medal, Readers Favorites 2013. She writes speculative fiction and contemporary romance novels that aspire to keep you from doing anything else useful with your time.
"The
Double Helix
is the kind of series you'd expect to see with a movie deal. I loved, loved, LOVED it."—Full Time Reader, Amazon Reviewer
"I wish I could award more than 5 stars. This phenomenal series continues to astonish and delight."
— Hillel Kaminsky, Amazon Reviewer
For a free electronic copy of
Perfection Unleashed
, visit
www.doublehelixbooks.com
.
All Jade's books are on Amazon at HERE. www.amazon.com/author/jadekerrion</a> and you can visit Jade at
www.jadekerrion.com
for her latest publishing news, events, promotions, and giveaways.
The Prometheus Saga
is the premier project of the
Alvarium Experiment
, a consortium of accomplished and award-winning authors.
The Prometheus Saga spans the range of the existence of
Homo sapiens
. The stories do not need to be read in any particular order; each story is an entry point into the overall story. Click HERE for links to ALL the stories.
Check out my own Prometheus Saga novella,
Manteo
.