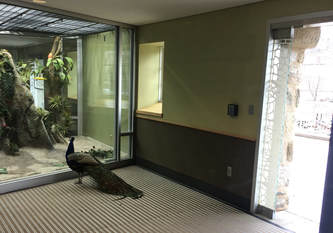 L
ong time since I posted! Let's see, got youngest off to college, hurricane Irma put a dint in the schedule, parent's weekend, readying our house to sell, Thanksgiving, oldest's college graduation, Christmas, house hunting, seeing oldest off to out-of-state job... crazy fall season has carried over into the new year. The day job picked up, too, of course!
Someday Loyal won a Second Place Royal Palm Literary Award from the Florida Writers Association in Published Short Fiction
in October! I truly enjoyed meeting new author friends and greeting old ones at the Deland Library Book Fair, also in October, and presenting my new workshop, The Writing Life, to the Jacksonville, FL chapter of the Romance Writers of America in January.
A
gent Paul is working on placing paranormal mystery
Billie Mae
. I feel like the peacock I saw (above) at the Philadelphia Zoo a couple of days ago. It was rainy and cold and he wandered in off the sidewalk to gaze at the butterflies flitting around in their summer-like habitat. We've had some great feedback and even went into two editorial meetings at big publishing houses, but we're still working on a sale. Paranormal mystery
Blind Mice Bite
went from concept/couple of chapters to active writing stage mid-August. Thoroughly critiqued in stages by my awesome writing group, it should be off to Paul in March and ready to market to publishers by May or June.
​
T
he 2018 project with the Alvarium Experiment has begun. We are writing a sequel to
The Prometheus Saga,
which should be great fun. Publication date will be in June.
I'm throwing the alien probe, Prom, into the drama of a cattle drive, century to be determined. I've continued to blog monthly on
the writing life
at the Florida Writers Association website and to polish and submit my existing short stories for publication, though I haven't managed anything new while working on
Blind Mice.


C
heck out my
Facebook Author Page
for interesting reads and author interviews and things that inspire my writing and get my creativity flowing. Drop me a note at elleandrewspatt at gmail dot com!