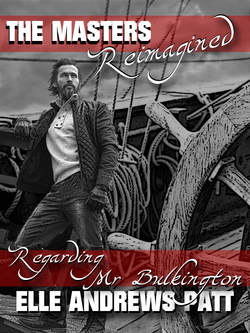 "
Regarding Mr. Bulkington
" is my contribution to the latest project by
The Alvarium Experiment, The Masters Reimagined
. Ten fantasy, science fiction, or supernatural short fiction twists on classic stories. They are all standalone from each other and from their source material.
Only .99 here!
Mr. Bulkington is a character from Herman Melville's great American classic,
Moby Dick
, which is in the public domain. This allowed me to weave my tale into
Moby Dick's
canon and convey a pivotal scene directly from Mr. Bulkington's point of view. For a writer, this kind of challenge is so much fun!
In
Moby Dick,
Bulkington is introduced by Ishmael very early in the novel. Ishmael is fascinated by the physical appearance and demeanor of Bulkington, just landed from a four year voyage. Although a brief passage, Ishmael makes Bulkington memorable. Then, to Ishmael's surprise, who should he see at the helm of the whaler
Pequod
as Captain Ahab and crew put to sea on the hunt for Moby Dick? Bulkington.
It seems Bulkington will be a character onboard the
Pequod
, one readers will get to know. But then we turn the page and read "this six-inch chapter is the stoneless grave of Bulkington". What? Wait. What happened to Bulkington? Nothing. Bulkington is alive and well, at least until Moby Dick takes his revenge. Ishmael has just decided that instead of sharing him, Bulkington will represent the "unknown" sailor, always passionately choosing the risks of the sea over those of the land and then lost to the watery depths at some unknown time, in some unknown way.
If you're like me, you still want to know Bulkington's story, though! While I did honor Melville's intentions for Bulkington, Ishmael does finally tell us the real reason he decided to keep Bulkington's story to himself, in his own inimitable style. Now that was a treat for me, to write in Ishmael's narrative voice.
Which brings me to my own fiction. In final edits on my paranormal mystery, currently titled
Billie Mae
, my agent (who spent fifteen years at Tor as an editor) was all "could you maybe break this really, really long complex sentence up?" Yes. Yes. I could. I broke it into four shorter sentences and explained that I had been reading
Moby Dick
and writing in Ishmael's point of view, which made him laugh.
Billie Mae features archivist Andrea Kelley as an amateur sleuth. Along with synopses for books two and three and first chapters of each, Billie Mae will begin the submission to publishers phase this coming week. Cross your fingers! I can't wait to share Andrea Kelley and her best friend, William Taka, with you!
The other stories and authors of
The Masters Reimagined
:
The Masters Reimagined
is the third project of the Alvarium Experiment, a consortium of accomplished and award-winning authors.
The stories do not need to be read in any particular order; each story is an entry point into the overall story.
"
The Count of the Alician Apocalypse
" by Bria Burton. On a visit to Stonehenge, a handsome stranger offers Alice an escape from the man who has been following her by way of a magical portal in one of the monoliths.
Visit Bria at
http://www.briaburton.com/
.
​"
The Lottery
" by Kristin Durfee. As Earth is dying, Eve Line may have found a way to leave the doomed planet. The world's best and brightest have fled to Mars, but as the last ship is ready to depart, a lottery will be held for the remaining residents to have a chance at a new life. Eve thinks her plan can succeed, but at what cost to her family, and herself? This modern retelling of James Joyce's "Eveline" asks an age-old question: where should your loyalties lie?
Visit Kristin at
http://www.kristindurfee.com/
.
"
Annie Karenina
" by Veronica H. Hart. Elizabeth Killington, recently widowed at age twenty-seven, flies to England to claim her late husband, Lord Horace Killington's estate. She finds she not only owns a grand manor house in the country, but also the "crowds of people" who made Lord Killington avoid home for many years. As she meets and recognizes characters from her favorites books, and some she never heard of, she learns a wonderful secret from her lady's maid, Bridget. Is it possible that all stories can have a happy-ever-after ending?
Visit Veronica at
http://www.veronicahhart.com/
.

"
Pupak and the Great Fish
"
by John Hope. Forcefully taken from his Amazon rainforest home, Pupak is faced with helping the very Brazilian white men who slaughtered his village people. But the gods are angry that he's running from his destiny and after superstitious sailors toss him to the sea in order to calm a ranging storm, he is swallowed by a great, metal beast the white men call a submarine.
Visit John at
http://www.johnhopewriting.com/
.
"
Shere Khan
" by Jade Kerrion. Uncover the truth Rudyard Kipling conceals in his unforgettable masterpiece,
The Jungle Book
.
One-hundred rupees for the skin of Lungri…
A mysterious Chinese girl arrives in India, determined to claim the bounty on the man-eating tiger. Intrigued by her unrelenting purpose, Rudyard Kipling follows her into the jungle on a mystical adventure that will transform
Lungri—The Lame One--
into
Shere Khan—Tiger Lord
.
Visit Jade at
http://www.jadekerrion.com/
.

"
Regarding Mr. Bulkington
"
by Elle Andrews Patt. As the
Pequod
plunges into the hunt for Moby Dick, Ishmael discovers the power behind Captain Ahab's mastery of the sea lies within the mysterious skills possessed by Mr. Bulkington. Are some secrets worth keeping to the grave?
Visit Elle at
http://www.elleandrewspatt.com/
.

"
When the Hurly-Burly's Done
"
by Ken Pelham. A Depression-era theater troupe performs for Brigands Key, and the witches of Macbeth once again twist the futures of hungering souls. Sam Hawke, impatient with life, finds himself in a position to seize the moment and achieve more than he could ever have hoped. But what is the price of unbridled lust and ambition?
Visit Ken at
http://www.kenpelham.com/
.

"
The Brazilian Millionaire's Butler
"
by Scott Michael Powers. Young, beautiful, and mysterious, Olívia arrives in Rio de Janeiro in 1944 too interested in keeping the party going to worry about the past she fled in America, the foreign world she entered, the true nature of the Brazilian millionaire she married, or the world war. When they drive her into depths of deception and treachery, Olívia is all but isolated. But she is not totally alone, for Brazil is a magical place. And because of that magic, the millionaire's butler knows he must become Olívia's champion, even at the risk of destroying himself.
Visit Scott at
https://www.facebook.com/ScottMichaelPowers
.
"
Thornfield's Ashes
" by E.J. Wenstrom. Jane finally found her happily ever after. But can she remain content as the ghost of Mr. Rochester's first wife haunts her? In this reimagining of
Jane Eyre
, Bertha has a dark secret she must share, leaving Jane to choose between her independent mind and her soul's yearning for love.
Visit E.J. at
http://www.ejwenstrom.com/
.

"
Treasure In My Pocket
" by T.L. Woolsley. When Jaquie discovers the space coordinates to "treasure," she becomes the target of a mysterious one-armed stranger who is also seeking the prize. Forced to leave her father and everything familiar to her, Jaquie becomes an apprentice on a starship dispatched on a covert mission to discover what lies hidden at those coordinates.
Visit T.L. Woolsley at
http://www.tlwoolsley.com/
.
For additional info about the stories and authors, visit the Facebook Fan Page:
The Alvarium Experiment